Lab Muffle Furnace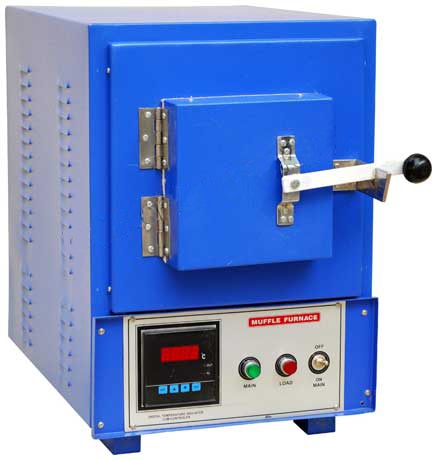 Double click on above image to view full picture
Lab Muffle Furnace
The working principle of a lab muffle furnace is to heat the air in the chamber by heating the Nichrome (nickel-chromium) wires which are generally referred to as electrically operated heating elements. The Control of furnace temperature majorly depends on the efficiency of electronic controller unit and best results can only be obtained from PID controlled units, PID stands for proportional integral derivative controller. The laboratory muffle furnaces generally do not have sophisticated cooling system. Most of the time a simple fan based exhaust system is installed and cooling is performed by this simple fan system supported by a chimney. The main utility of this furnace exhaust system is to take out the toxic gases from the inner chamber which comes out during heating of the testing materiel / specimen inside the chamber. Hence the chamber gets sanitised of any toxic gases which may have evolved during the heating of materiel inside the lab muffle furnace.
Product Name: Lab Muffle Furnace
Product Code: In stock
Lab Muffle Furnace Provided with 304 grade Stainless steel outer body with digital temperature controller cum indicator. These laboratory muffle furnaces are designed to heat the specimens up to 1700°C. Generally the most common laboratory furnaces have a maximum working temperature 1100°C – 1200°C. The working temperature of a laboratory furnace depends on the application. The maximum working temperature is one of the main characteristics to consider when choosing a laboratory furnace as it shall be in accordance to the application. Insulation is also an important factor to be taken care of for the efficient working of the lab muffle furnace. It is relative and proportional to the working temperature of the furnace, the higher the maximum temperature - heavier the insulation thickness must be.

The simplest understanding of the use of lab muffle furnace can be explained as its use to burn off desired organic compounds so as to evaluate the amount of inorganic compounds inside a test materiel.

Laboratory furnaces are referred by various names being relative to the application such as bench type furnaces, chamber furnace, ashing furnaces, muffle furnace and dental furnaces too. Laboratory furnaces are generally used to heat small materials or test specimens over 1000°C. Below mentioned is the list of applications of laboratory muffle furnace :
• Research and development.
• Ceramics.
• Semiconductors.
• Heat Treatment.
• Brazing and Soldering.
• Air and Space Industry.
• Petro chemistry.
• Material Testing and Quality Control Laboratories.
• Automotive.
• Coal and Mining.
• Plastics.
• Glass.
• Medicine.
• Electronics.
• Dental.
• Nuclear.